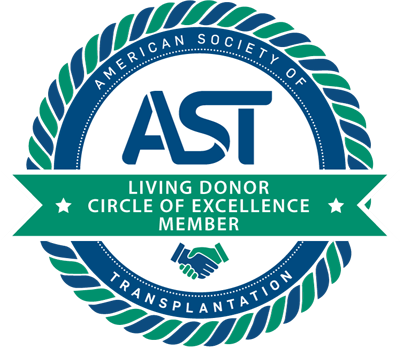 For more than 20 years, Sanofi has proudly supported the field of kidney transplantation.
As a member of AST's Partner Connect and Living Donor Circle of Excellence, we are honored to help AST bring about positive change within the transplant community through education and advocacy.
Together, we can address issues that may contribute to disparities in transplantation.
As your partner in transplant, we stand by your side.
Partnering Together
to Help Improve Care
Sanofi is proud to support initiatives that give a voice to underrepresented minorities in the field of kidney transplantation.
To produce change, we must first identify the problem we intend to solve.
Watch our Disparities in Kidney Transplantation video to learn more about some of the staggering disparities faced by those in need of a kidney transplant.
Partnering Together
to Support Transplant Education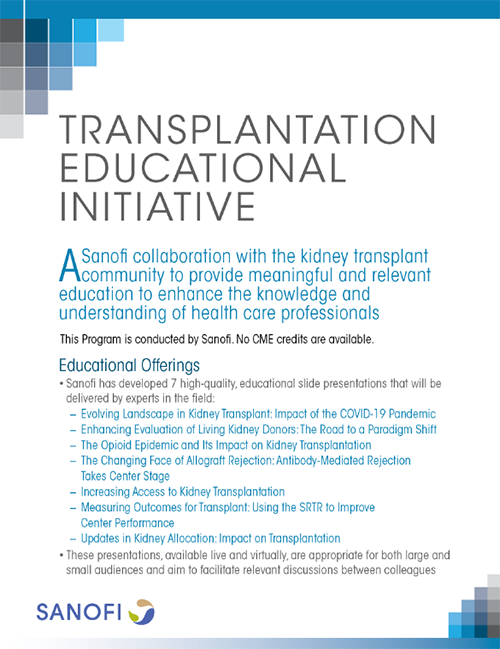 We're proud to partner with a diverse group of leading experts in transplantation to develop meaningful and current educational programs that can be tailored to the unique needs of your center.
Topics include
Does accepting high-risk kidneys adversely affect my center's performance evaluations?
What options are available for HCV+ and HIV+ recipients and donors?
How can my center support paired kidney donations?
What current techniques are available for diagnosing antibody-mediated rejection?
How has the COVID-19 pandemic affected kidney transplants across the US?
There's Strength in Connecting
Kidney Transplant Connectors are donors and recipients who come together to educate and motivate people in need of a kidney transplant and their loved ones by sharing their own journeys through transplantation.
The Kidney Transplant Connectors program is available in English and Spanish, both in-person and as a live webinar.
Each program is presented by 1 donor and 1 recipient, who share their personal journeys. Other highlights include
The importance of self-advocacy and considering all available options to help reduce time spent on the transplant waitlist
Tips to prepare for the transplant procedure and the period afterward
Educational information and resources about transplant options
© 2021 sanofi-aventis U.S. LLC. All rights reserved. MAT-US-2104257-v1.0-07/2021